Monday, 17 October 2005
The Tandem Club UK provides a social framework for Tandemists throughout Great Britain and many other areas of the world. If you are new to tandeming, or are just thinking about the possibilities, visit the Tandem Club UK website, or browse our Tandeming section for further information and advice.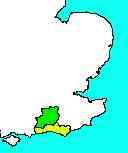 The Surrey and Sussex regional group caters for tandemists in the RH(Redhill), BN(Brighton) and CR(Croydon) postcode areas, though we do of course welcome riders from all areas. Riders will also be interested in the rides organised by the Kent region which are often in or close to our area. Details are included in our Events lists.
Surrey and Sussex region rides take place on the second Sunday of each month and are typically 35-45 miles long. If you would like to try something shorter for your first ride, please let us know.
Coffee breaks, pub lunches, tea stops and picnics are high up on most tandemists' agenda, and we are no exception! Most rides feature a pub lunch, and we try to have a tea and cake stop in the afternoon.
Our group has riders of all levels of ability and experience, including families. The aim is an enjoyable day's riding along quiet roads with interesting countryside and good company. They are not training sessions!
In addition to the Sunday rides, there is the opportunity to participate in many other Tandem Club events, including National and International Rallies.
We hope, and are sure, you will get much pleasure and fun from joining us. You will meet new friends, all of whom share a love of cycling, good company and good food!
We aim to cover the whole region, however Surrey and Sussex is a large area - if you would like to organise a ride near you, ring our regional officer (Philip Ingram 01903 205405) who will publicise it in the Runs List on this site, the Tandem Club web site and the runs list mailshot. Suggestions for off-road or family rides are also welcome.
Our Regional Officer is Phil Ingram. Contact Phil by telephone on 01903 205405 or email using the Contacts page.
If you would like to join the Tandem Club or just find out more visit their web site .